Kerala might be known to the world as land of coconuts, but rice flour is ubiquitous and integral to our food, especially as a breakfast item. Almost all popular breakfast items in the state originate from rice and its derivatives. However, some of most bonafide items invented by our people happen to be made out of rice flour. Be it soft and simple Pathiri, or juicy and layered Ela Ada – the sheer inventiveness and ingenuity that goes into some of these dishes is fascinating. Most recipes are fairly simple and can be dished out in less than 30 minutes, as long as one uses rice flour off the shelf. Here are some quick and easy recipes you can try out at home to get a taste of Kerala for breakfast.
Idiyappam
                  Known to the world as String Hoppers, this breakfast item is much favored among Malayali's. The soft steamed noodle cakes have a smooth and almost creamy texture with the crunch of coconut scrapings on top. Often paired with stews and curries for breakfast. Idiyappam is also preferred as an evening snack with a sweet coconut milk sauce poured on top.
                 However, most homemakers wouldn't dream making Idiyappams often, due to its laborious process. Firstly, the dough needs to be prepared by mixing roasted rice flour with boiled water to make it soft, process usually ending up with burning fingers. Not to mention the brute force needed to squeeze out the dough from the press, especially if the dough hasn't softened up enough.
Prep time: 10 minutes
Cook time: 10 minutes
Total time: 20 minutes
Serving size – 12 pcs
Ingredients:
Water – 2 cups
Gingelly Oil – 1 tsp.
Roasted rice flour – 1.5 cup
Salt – ½ tsp.
Instructions:
Firstly bring the water to a boil.
In a bowl, mix required salt to the rice flour and add ¾ cup hot water.  Stir with a spatula. Now, continue to add the water little by little to the rice flour and mix well until a soft, smooth and non-sticky dough is formed.
Once the dough rounds up, start using your hands to knead the dough for about 2 minutes.
Pinch out a ball of the dough, grease it with oil and stuff it into the Idiyappam press and squeeze out onto the steamer plate.
Steam the idiyappam for about 5 mins until cooked through. Let it cool down a bit, then gently remove from the steamer plate to the serving plate.
Serve hot with a side of stew, curry or sweetened coconut milk
Recipe using Double Horse Easy Idiyappam Powder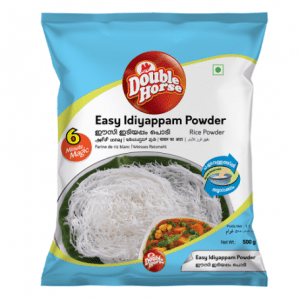 Prep time: 5 minutes
Cooking time: 5 minutes
Total time: 10 minutes
Instructions:
Take one cup of Double Horse Easy Idiyappam powder
Add 1 to 1 ½ cup normal water (room temperature) to the flour.
Add required salt
Mix it to make soft and smooth dough.
Pinch out a ball of the dough, grease it with oil and stuff it into the Idiyappam press and squeeze out onto the steamer plate.
Steam the idiyappam for about 5 mins until cooked. Let it cool down a bit, then gently remove from the steamer plate to the serving plate
Note:- No Hot Water Needed, Makes Super Soft Idiyappams
Check Double Horse Idiyappamfor super soft and tasty Idiyappam.
ARIPATHIRI
A famous dish from Kerala's Malabar area is this rice flour roti. It pairs well with a variety of curries!
Ingredients:
1 cup rice flour (fine)
1¼ cup water
1 tsp coconut oil
½ tsp salt
Instructions:
To begin, dry roast 1 cup rice flour for 5 minutes on a Tawa over low to medium heat.
Take 1¼ cup water, 1 tsp coconut oil, and ½ tsp salt in a big Kadai
Bring the water to a rapid boil.
Simmer the flame still further and add the roasted rice flour.
Mix continuously until a dough is formed.
Turn off the heat, cover, and let it rest for 5 minutes.
Furthermore, knead and mix using oil-greased hands.
Pinch a ball of dough the size of a golf ball. Cover and set away from the leftover dough; do not allow it to dry out.
Start rolling with a thin dusting of rice flour.
Roll out as thinly as possible, sprinkling with rice flour if necessary.
To seal any broken edges, cut the Pathiri into a circular shape.
Place rolled Pathiri / rice roti on a nonstick Tawa over medium heat.
Cook for 30 seconds on both sides on low to medium heat without letting the pathiri turning brown.
Gently blow up the pathiri with your fingers.
Finally, serve the aripathiri with coconut milk dipping sauce, curry, or chutney.
ARI PUTTU
             Puttu served with Kadala curry is one of the most popular breakfast combinations from Kerala. The combination of soft puttu with Kadala curry(black chickpeas curry) is awesome and you should taste it to know what I mean!
Ingredients:
2 cup puttu flour
¼ tsp salt
¾-1 cup water
1 cup grated coconut
Instructions:
Firstly, in a large bowl, take 2 cups of puttu flour and ¼ tsp salt. Mix thoroughly.
Now add ¼ cup water to the flour and crush it.
Water should be added in stages and well mixed with your hands.
When crushed between the fists, the flour must keep its form and shatter on further pressing.
Make a crumbly flour with a wet texture
With your finger, break apart all of the lumps. Alternatively, pulse it twice in a mixer.
Using a puttu steamer, place 2 tbsp fresh grated coconut on top.
Now, stuff 3 tbsp of puttu flour into the steamer followed by 2 tbsp on grated coconut. Stuff the puttu kutty once again with 3 tbsp of puttu floor.
Close the puttu kutty and steam it for 5 minutes.
Mix thoroughly.
Carefully open it and push the puttu out the back using a wooden spoon.
Finally, serve the Kerala puttu with Kadala curry while it's still hot.
Check Double Horse Puttupodi for super soft and tasty Puttu.
RICE MURUKKU
              Murukku is a famous and traditional deep-fried South Indian snack made from rice flour. It is typically cooked during festival seasons like Diwali and Ganesh Chaturthi, as well as for feasts and other events. However, it can also be served as a snack during tea time.
Ingredients:
2½ cup rice flour (fine)
2 tbsp butter
Asafoetida/ pinch of hing
1 tsp sesame
¼ tsp Kashmiri red chilli powder
½ tsp salt
½ cup roasted gram dal/ pottukadalai
Water to knead
Oil for frying
Instructions:
To begin, combine 2½ cup rice flour, 2 tablespoons butter, pinch of hing powder, 1 teaspoon sesame, ¼ teaspoon chilli powder, and ½ teaspoon salt in a large mixing basin.
Into the same bowl, add the roasted gram dal powder.
Crumble and combine well.
Add water as needed and knead into a soft dough.
Begin making chaklis on a damp cloth or butter paper. By pushing, produce tiny spiral chaklis.
So that it doesn't break apart during deep-frying, close the ends.
One murukku at a time, place it in the heated oil or bake for 15 minutes at 180 degrees Celsius in a preheated oven.
Flip the murukku and cook over medium heat until both sides are crispy.
Furthermore, drain over a paper towel to absorb any excess oil.
Finally, serve crispy murukku/chakli with masala milk or tea
BANANA APPAM
              Banana appam is a popular sweet and savoury snack made with wheat flour and a variety of seasonal fruits. This dish may be made with a variety of fruits, but banana-based paniyaram is quite popular throughout the season.
Ingredients:
3 ripened bananas
¼ cup jaggery
1 cup wheat flour/atta
¼ tsp cardamom powder / Elaichi powder
pinch of salt
oil for deep frying
Instruction:
To begin, peel and chop 3 ripened bananas into pieces
Make sure there are no lumps by mashing them with a fork.
Now, add ¼ cup jaggery and stir well until totally melted.
Add 1 cup wheat flour, ¼ teaspoon cardamom powder, and a sprinkle of salt
Combine all the ingredients
To achieve a thick cake batter consistency, add additional banana puree of water.
Using a spoon, start pouring the batter one by one the hot oil.
Maintain a low to medium heat and stir occasionally.
Fry the appams until they are into a dark golden-brown colour.
Drain the excess oil from the appams using a kitchen towel
Serve hot banana appams topped with ghee.
Check Double Horse Snacks
Try out these healthy-mouth-watering snacks using Double Horse Rice Flour and let us which one among these recipes you loved the most!