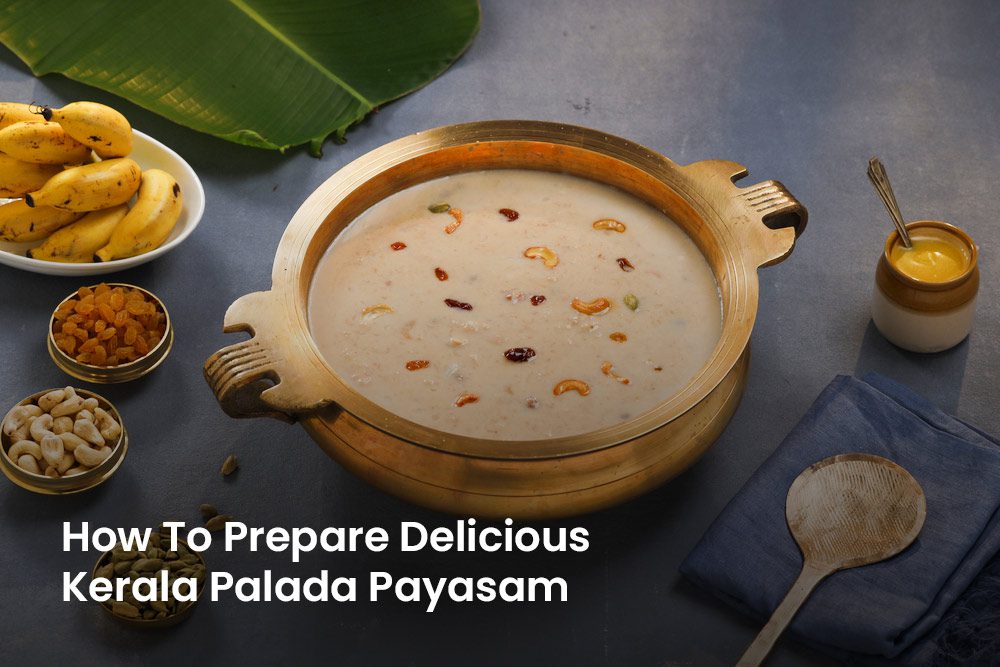 Celebration? Then, Keralites need payasam. And, if it's Palada, then even the mundane becomes festive. Palada payasam is synonymous with home for every Keralite. Wherever they are in the world, a cup of Palada is all they need to reminisce about their home turf. Payasam, or Kheer, is a staple dessert of the Kerala household. The variety of this dish is not limited to Palada but also to many other varieties like Semiya, Adapradhaman, Parippu, and so on. The main components of payasam will be milk, jaggery, sugar, cashew nuts, ghee, raisins, etc. According to the kind of kheer, the main element changes, it can be cereals, grains, dals, fruits, etc.
How To Make Palada Payasam
Let us now look at the recipe of how to make the traditional and all-time favorite palada payasam.
Ada Preparation for Palada Payasam
Ingredients
One cup of rice flour
¼ cup of water, depending on the amount of rice flour taken
Coconut oil, two tablespoons
A pinch of salt
To spread the dough, use fresh or frozen banana leaves.
Preparation
To create a soft dough, bring the water to a boil in a bowl before stirring in the rice flour and coconut oil.
After cleaning and wiping the plantain leaf pieces, spread the oil on the underside of each piece.
It is best to roll the rice flour dough into small balls and then spread it as thinly as you can.
After that, start drawing grill-like crisscross patterns with smaller cubes using a toothpick.
In a big, wide pan, add water, and then allow it to come to a boil. Once the water has come to a rolling boil, add the banana leaves with the ada and the flour batter. After two to three minutes, or until the batter becomes transparent, remove the banana leaves from the pot.
Remove it from the pan and place it in a different container filled with warm water.
It should be strained and thoroughly rinsed with cool water three or more times to remove all of the extra oily stickiness.
You can also purchase readymade rice ada to prepare Palada payasam.
Palada Preparation
Ingredients
3 cups of full milk
Ghee, as required
¼ cup of ada
¼ cup of sugar
¼ spoon of cardamom or elaichi powder; green cardamom
Raisins, optional ( if using, soak it in water beforehand)
You can use dry fruits for garnishing like pistachios, cashew nuts, badam etc.
Preparation
The rice ada has to be rinsed thoroughly and has to be soaked in hot water for the flakes to soften. Once that is done, strain it using a good strainer. It will take a few minutes to drain the water.
Once dried, the soaked ada should be sauteed in ghee at a low flame, make sure not to burn it.
Dry fruits, of your choice, can also be sauteed in the same pan until you get a good aroma.
The milk should be boiled, then simmered until its volume has slightly decreased.
At this point, add the sugar, ada, cardamom powder, raisins that have been soaked, and saffron.
The rice ada should get cooked evenly but should not turn mushy.
Stirring the mixture occasionally makes sure that the payasam will not get burnt.
Switch off the flame only when the payasam has turned creamy and gives a slight pink hue.
Garnish it with sauteed dry fruits.
The aroma that fills the home during the preparation of Palada, itself transports every Malayali back to their roots.
This is how to prepare Delicious Kerala Palada Payasam!
Double Horse is the most popular brand name for Malayalis, and we take immense pride in representing "home" for them far and across the globe. Double Horse takes impeccable care in the manufacturing of all kinds of spice powders, breakfast mixes, and now has its own exclusive line of readymade payasam mixes. The instant mix of payasam is all you need to relish after a sumptuous meal.