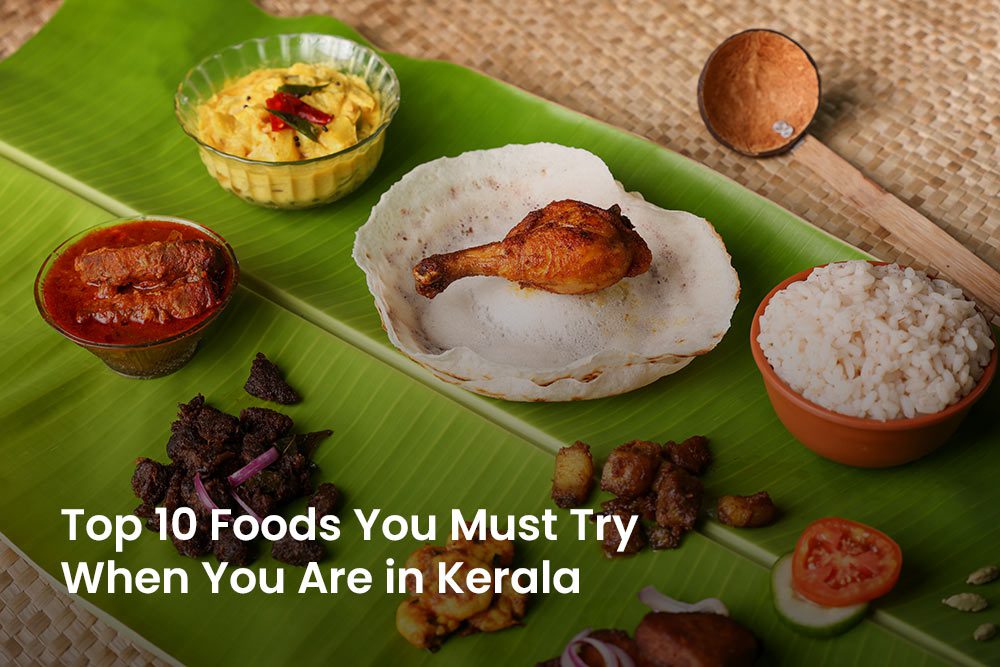 The first thing that comes to one's mind when they hear "Kerala" will be the serene greenery it is famous for, the second best thing will be the lip-smacking cuisine of the place. Kerala is home to a variety of different cuisines, which makes it a foodie's paradise. The preparation style varies from one end to the other, and therefore gives your tastebuds an immense opportunity to explore. Being said, there are certain dishes that are a must-try when you plan your visit to Kerala. This blog tries to help you streamline your food choices for your next visit to Kerala.
Best 10 Foods You Must Try in Kerala
1. Malabar Parotta And Beef Curry
Parotta is usually confused with the parathas of the North. But this mistaken similarity is only with the round of words and it is kind of called the most favorite dish of Keralites. This flaky bread is made with plain flour or maida after kneading the dough and spreading it in a very different style. A good parotta will always have good resonance with how it is being made. Malabar Parotta has its home in the Malabar region of Kerala. Pairing it with non-vegetarian or vegetarian curry doesn't bring down the taste. But the most exquisite pairing with porotta will go to beef curry. The beef curry is a combination of onions, tomatoes, garlic, and a whole list of spices, and small pieces of beef are simmered into the same, making it an aromatic thick gravy.
2. Appam and Stew
Appam is one of the light-hearted delicacies that is mostly served as breakfast but can be eaten at any time because of its lightness. It is made of fermented rice and coconut milk. The other ingredients in appam will be a little bit of yeast to initiate the fermentation and sugar to give it sweetness. The making of appam is also done in a different kadai, which is known as "appachatti." Appachatti is deeper than the usual kadai, and once a ladle of the batter is poured, a swift round motion is given to it to get its given crispy-edge shape. Ishtu, or stew, is the most demanded and best side dish, which is served with appam. The dish is again made with spices, vegetables, and coconut milk. The stew can either be made of only vegetables or can be a mix of both vegetables and a non-veg of your choice, usually, it is beef or chicken.
3. Puttu and Kadala
Puttu is one of the staple breakfasts served all over Kerala. It is rice flour mixed with salt and water and steamed with grated coconut to form large logs. Black chickpea curry, or Kadala curry, is the most famous combination when it comes to having puttu. Kadala curry is a combination of roasted coconut with spices, combined with coconut milk. It is a spicy dish with thick gravy and is extremely nutritious. Puttu is also served best with small, ripe bananas and pappad.
4. Karimeen Pollichathu
Kerala is quite known for its seafood culinary experience and the most famous among them will be Karimeen Pollichathu. Karimeen, or pearl spot, is a common fish that is seen in the backwaters of Kerala. The dish is prepared after marinating the fish in chili powder, spices, salt, and lemon juice. It is then wrapped in baked plantain leaves and cooked through. This gives the dish a fresh aroma from the plantain leaves and the slow cooking of all the ingredients. This unique dish of the Syrian Christians of Kerala is now an unavoidable part of Kerala's cuisine.
5. Erissery or Pumpkin Lentil Curry
Erissery is a part of the Sadhya, which Keralites are very proud of. It is a vegetarian dish made from raw plantains or sliced yams. Slightly sweet pumpkins are boiled in water with salt, green chilies. Once the pumpkin is cooked, then grated coconut, dried lentils, turmeric powder, cumin seeds, and garlic, are added together to make a medium gravy consistency. The curry can be served hot with white or brown rice.
6. Pazhampori or Banana Fritters
It is a favorite snack-time delicacy in Kerala. A steaming cup of tea or coffee paired with pazhampori is craving for every Keralite. It is made either through dipping ripe bananas in the batter of atta flour or plain flour and fried in coconut oil and served hot.
7. Palada Payasam
Without Palada, the festive season or special occasions in Kerala remain incomplete. Palada is a dish made out of milk, rice, and sugar. Rice is put in the form of rice ada. The traditional preparation will have to put in all these and stir them to combine to form with a thick but running consistency. You can now also get instant packs, which will help you relish these dishes easily.
8. Kerala Prawn Curry
It is one of the well-known dishes from the Malabar region. It is made with a blend of ingredients like fenugreek seeds, black mustard seeds, fennel seeds, coconut milk, and green chili. The use of kudampuli or brindleberry is one of the main ingredients that give it its unique taste. The prawns are marinated in spice powders and kept aside, then boiled with the rest of the mix along with drumsticks to give you the sour, sweet, and tangy taste.
9. Thalassery Biriyani
Biriyani is kind of emotion for Keralite and when it is Thalassery Biriyani it becomes definite. Thalassery Biriyani uses a different kind of rice called "Kaima," which is a fragrant and very small form of rice. The rice and chicken or beef gravy are cooked separately and layered, then mixed just before serving. There is a technique that is used just after the biryani is layered where a heavy lid is placed on the vessel that has the biryani and sealed with dough, which helps infuse the flavors intact, and opened just before serving.
10. Fish Moilee
Fish moilee, or fish stew, is a Christian delicacy. The fish curry is prepared in Manchatti, which gives it that earthen taste. The fish is lightly fried with turmeric, pepper, spices, and cinnamon, and cooked along with green chillies. The fish usually taken for fish moilee will be either seer fish or king fish. The fish is marinated with spice powders before adding it to the gravy.
Double Horse is one of the leading brands that provide the most authentic taste of Kerala. We have brought different spice lines and food powders, which include appam, idiyappam, puttu, etc. Choose Double Horse to get the taste of Kerala.