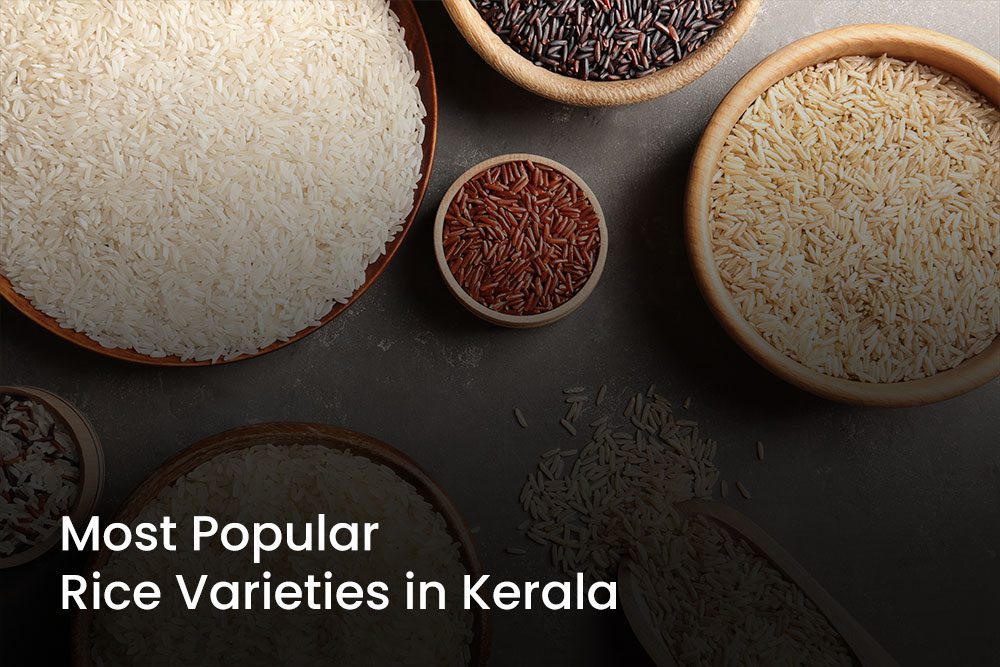 Rice is the major agricultural product and most consumed food grain in Kerala. Unlike the North Indian states, where wheat is a more popular food grain, Keralites are known to consume rice two to three times a day. Furthermore, rice is the main ingredient for snacks, delicacies and breakfast food items like Idli, Dosa, Puttu etc.
People have different tastes, therefore, different choices when it comes to the selection of rice. Some prefer Jaya, some other Surekha, many others Matta etc. The choice differs depending on the food habits. Double Horse is known for offering the best quality rice and rice products. We have been serving the customers with the most popular varieties of rice in Kerala. Check out the rice varieties offered by Double Horse and choose your favorite one.
Rice Varieties in Kerala
1. Long Grain Boiled Basmati Rice
Ideal for Biryani, the long grain basmati rice has an aroma that you cannot resist. The best quality basmati rice would further elongate on preparation and would remain unbroken. Having an appealing look, and appetizing taste, Basmati rice is preferred for biryani, fried rice etc. Double Horse Chefmate long grain boiled basmati rice is the best choice for preparing biryani at home, for functions and special occasions. You will not try any other basmati rice brand once you taste this special Chefamate long grain basmati rice from Double Horse.
2. Kuruva Rice / Cherumani Rice
The small and tasty Kuruva rice is preferred by many for sadya or feast, lunch at home and at restaurants. You can buy the best quality Kuruva rice from Double Horse, cultivated from selected high-quality crops. The Double Horse Cherumani Rice would satiate your taste buds. Your stomach might get filled but your heart would yearn for more.
3. Jeerakasala Rice/ Kaima Rice
Ever thought about why the Thalasseri biryani or Malabar biryani is so tasty making you want more. It is the magic of the aromatic, flavorsome, Kaima rice (Jeerakasala Rice) that makes the biryani more delightful. Different from basmati rice, Kaima rice is small in appearance. However, it has a special flavor that would entice your taste buds. Once you prepare biryani with Double Horse Jeerakasala Rice, you will never think of trying any other rice.
4. Jaya Rice
Good for daily use, Jaya rice is one of the most popular rice varieties in Kerala. Selected food grains, cleaned, examined and packed hygienically are what make Double Horse Jaya Rice the best option compared to others. The Jaya rice free of dust, dirt and chemicals offers you a tasty and healthy diet. You are always welcome to visit our production, processing and packing center to witness our state-of-the-art technology to provide safe food products to our customers.
5. Vadi Matta Rice
The Palakkad Vadi matta rice is another variety that you would find at many homes and restaurants. The taste, appearance and health benefits make it a preferred choice for marriage sadya, temple feast etc. Double Horse Jyothi Vadi Matta Rice undergoes a series of cleaning and processing to remove all the dust and dirt. The selected vadi matta rice grains are packed exclusively for you to have a healthy and savory feast.
6. Surekha Rice
Surekha is another common rice variant used at home. The easy-to-cook rice variant is more preferred by employed people. However, one must consider Surekha rice only from reliable brands. For it to be the best quality, clean and hygienic. Choose Double Horse Surekha Rice if you are looking for hygienically prepared and packed Surekha Rice in Kerala.
7. Palakkadan Matta Rice
The Vadi matta rice is long grain whereas the Palakkadan matta rice is a small grain. Healthy brown rice is fiber-rich and nutritious. It is the first choice of health-conscious individuals. Containing protein, carbohydrates, Vitamins and other nutrients, the Palakkadan Matta Rice is a widely popular choice in Kerala. Double Horse Palakkadan Matta Rice is available in 2kg, 5kg, and 10 kg packets for you to choose from.
8. Sona Masoori Rice
Sona Masoori is export-quality rice that is considered for a weight loss diet regime. The easily digestible rice has been considered by people observing dieting. The easy to cook Sona Masoori rice is exported to many countries. Double Horse Sona Masoori Rice is the best for pulao, lemon rice, curd rice etc. The brand is known for high-quality processing and packing, which is fully automated to avoid any kind of hygiene issues. You might become an ardent lover of Sona Masoori once you try this out.
9. Matta Broken Rice
Especially used for gruel, matta broken rice is tasty and easily digestible. Double Horse Matta Broken Rice is the right choice if you want clean and safe rice. It is a rich source of vitamins and minerals and is advised for patients.
10. Payasam Broken Rice
How about a tasty and healthy payasam or kheer? Get the Double Horse Payasam broken rice if you want a luscious payasam. You can also order payasam broken rice online.
Double Horse – The Most Trusted Food Brand of Kerala
Double Horse stands tall on the legacy created through quality and taste. Starting as a single rice mill in the late 50s, the Manjila Group became the number one agro product brand in a short time. We export food grains, spices, food products, instant mixes etc to several foreign destinations. The love and support from the esteemed customers are what helps us maintain the top spot among the food brands.
We assure you the best quality rice, rice products, spices, pickles and other food products. Do check out our product range and order.
Feel free to contact us for your queries.