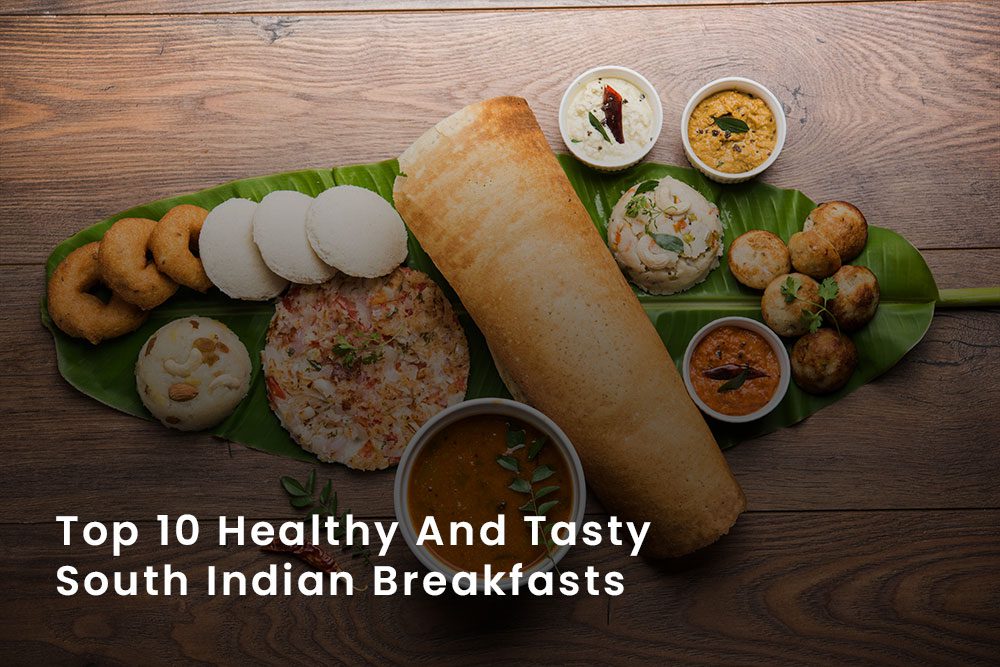 South Indian cuisine, which includes dishes from Kerala, Karnataka, Telangana, Tamil Nadu, and Andhra Pradesh, is recognized for its brilliant colors, incredible flavor, and a range of sweet, sour, and spicy flavors. Common dishes served are Dosa, Idli, Appam (rice crepes), Pathiri, Chapati, (steamed rice flour), Poori (rice or wheat flatbreads), PuttuIdiyappam (steamed rice noodles) etc. These dishes are served with vegetarian or meat curries, chutneys, stews, and other side dishes.
Top 10 South Indian Breakfasts
If you're tired of eating the same things every day, try these South Indian breakfasts to keep your taste senses stimulated. Take a look at some of South India's most popular breakfast dishes.
1. Idli
Idli is a traditional South Indian breakfast dish that is very nutritious. These soft, light, fluffy idlis served with sambar and coconut chutney are perhaps Kerala's most famous dish, and are enjoyed not only among Keralites but also across India! Idlis made with Double Horse Idli Mix are well-known among foodies not only for their flavor but also for the health benefits they offer.
2. Dosa
This crisp, silky pancake is made from rice batter that is served with sambar and chutneys. It's high in carbohydrates and proteins, but it's low in sugar and saturated fat. The mouth-savoring Double Horse Dosa Mix is made from fermented rice and lentils. It is, without a doubt, the best meal in Kerala.
3. Uppuma
Uppuma is a delicious breakfast meal made with Rava or sooji. It entails soaking roasted Rava in water flavored with ghee, cashews, urad dal, chana dal, onion, ginger, and other herbs and spices before cooking. Fibre, vitamins, and healthy fats are all found in a bowl of Upma. Uppuma made from Double Horse Roasted Rava powder is an extremely healthy meal as it is low in cholesterol and calories.
4. Appam
Appam is known by a variety of names, including Palappam, Kallappam, Velayappam, and so on. You can easily prepare this delicacy with the help of Double Horse Palappam Mix. Appam is typically made in a mold called an appa chatty, in which the batter is rolled thin. The middle of the appam will gradually become thicker and softer, with a faint brown hue. This appam is typically served with a potato, chicken, duck, or mutton stew.
5. Puttu
Puttu, which means "portioned" in Malayalam, is made of steamed ground rice cylinders stacked with coconut shavings and sometimes a sweet or savory filling on the inside. The puttu made with Double Horse Puttu Podi is a true all-rounder that may be used in a variety of ways. It's commonly served with a curry of Kadala (black chickpeas) or moong dal. It can also be enjoyed with ripe banana, jackfruit, or fish curry, whatever you prefer!
6. Idiyappam
String hoppers called idiyappam or nool puttu are a favorite breakfast in Kerala. Idiyappam made using Double Horse Instant Idiyappam mix is soft and silky and goes well with a curry or any side dish of your choices, such as Veg Korma, Mushroom Korma, Vegetable Stew, or Kadala Curry.
It's also known as ready-to-eat rice noodles and can be prepared in a few minutes using Double Horse Easy Idiyappam Powder.
7. Poori
Poori is an Indian deep-fried bread prepared from unleavened whole-wheat flour. It's good for breakfast, a snack, or a light dinner. Puris are made using atta or sooji. Ajwain, cumin seed, spinach, or fenugreek seeds are sometimes added to the Double Horse Chakki Fresh Atta in several recipes.
Poori is usually served for breakfast in southern India, and it is rarely served with non-vegetarian foods on the east coast (Andhra Pradesh and Tamil Nadu). Pickles, chutneys, dal masalas, potato masalas, and gourd curry are frequently served alongside them.
8. Rice Sevai
Rice vermicelli, often known as rice noodles, is a favorite of many people. In the South, it's known as "rice sevai" or "idiyappam." Idli and dosa have been replaced on our morning table by this popular breakfast or tiffin meal. Rice sevai can be used to make lemon sevai, tomato sevai, coconut sevai, masala sevai, rice sevai kheer, tamarind sevai, and many more classic South Indian dishes. You can cook a quick breakfast in no time with Double Horse Rice Sevai.
9. Pathiri
Pathiri is a fluffy rice flour bread popular in Kerala's coastal Malabar area. This bread is produced by combining rice flour with warm water in the dough and rolling it out into thin flat dough discs on a Tawa. Serve this tasty chappatis made with Double Horse Easy Pathiri Powder with a spicy veggie curry or beef or mutton curry for non-vegetarians.
10. Uttappam
Uttapam is a common South Indian breakfast dish made from dosa batter, onions, green chilies, coriander, and garam masala. For those searching for a low-fat breakfast, Uttapam made from Double Horse Dosa Mix is an excellent choice. Vegetable Uttapam and Oats Uttapam are a couple of the other variants.
The method, importance, minerals, and health advantages associated with traditional South Indian food have made it more popular around the world. But preparing the batter for these dishes takes a lot of time. Today's fast-paced lifestyles rarely allow us to prepare a delectable and complicated meal from scratch. There's no denying that it's a time-consuming process that starts with the creation of a long list of components, then the search for those ingredients, and finally the never-ending cooking process.
But with the help of Double Horse Easy and Instant Mixes, these healthy breakfast dishes can be prepared in no time. These Instant Mixes from Double Horse are easy to make, flavorful, and nutritious.
Contact us today, if you are looking for the most trusted food brand in Kerala.